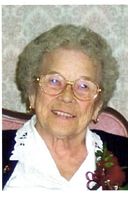 Edith B. Carr, 96, formerly of North Utica, passed away on Saturday, December 22, 2012 at the Presbyterian Home with her family by her side.

Edith was born on March 5, 1916 in Posen, Michigan, the daughter of Stanley and Alexandria (Adasiewicz) Kania. In 1936, Edith married Ralph Moore in St. Patrick's Church, Utica. He passed away on September 1, 1966. On July 4, 1970 she married James Carr who passed away on March 5, 1987. Edith was a psychiatric assistant at St. Elizabeth Hospital retiring in 1967. She was active in the West Side Senior Center where she enjoyed craft and choral group.

Surviving are her daughter, Jane Philipson and her husband, Gary, Waterville; sons, Ralph Moore and Gail Bullock and Robert Moore and his wife, Jacqueline, all of Sauquoit; step children, Patricia Carr, Florida and Dennis Carr and his wife, Bonnie, Utica; brother and sister-in-law, Edward and Lydia Kania, British Columbia; sister-in-law, Jennie Kania, New Hartford; 14 grandchildren, Todd (Donna) Hoffman, Timothy (Jean) Hoffman, Cheryl (John) Richards, Michael Moore, Janice (Brian) Campion, Robert A. (Linda) Moore, Jr., Randy Moore, Rebecca (Joseph) Sallustio, James (Mandy) Carr, Dennis Carr, Christopher Carr, Margaret Carr, Jenai (Sean) Jennings and Angel Carr; 35 great grandchildren and several nieces, nephews and cousins. Edith was predeceased by her brothers, Alexander and William Kania, sisters, Mary Zaleski and Helen Pliska and granddaughter, Lori Moore.

Edith's family is grateful to Dr. Chabot and the nurses and staff of the Presbyterian Home, especially Maple Wing, for the care and compassion shown to Edith during her stay.

Remembrances in Edith's name may be made to the Presbyterian Home. Envelopes will be available at the funeral home.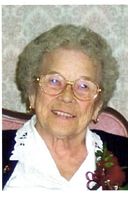 Relatives and friends are invited and may call Thursday morning from 10-11 at Myslinski Funeral Home, 470 French Rd., Utica with funeral services commencing immediately following visitation at 11. Spring interment will be in St. Mary's Cemetery, Clayville.


Jane and Gary So sorry to read of your Mom''s passing. May your memories help ease your sorrow. Karen & Gary
Posted by: Karen and Gary Pryputniewicz | Tuesday, December 25, 2012
---
Dennis so sorry for your loss, especially at this time of the year. I am out of town with friends for the holiday in Albany and can''t get back till Friday so i will miss you at the wake, when i get home let''s get together and talk a bit......... Sal
Posted by: Salvatore G. Aversa | Tuesday, December 25, 2012
Post a Message of Sympathy
DO NOT SUBMIT information that you do not wish made public on this site. We review all submissions and reserve the right to reject any messages.