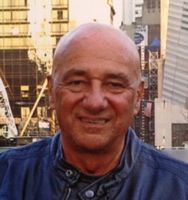 Anthony P. Aceto, 66, of Utica passed away on Friday, July 6, 2012 as a result of a boating accident that also took the lives of his beloved sons, Stephen and Timothy.

Anthony was born on November 11, 1945 in Utica, the son of the late Anthony T. and Jane (DiBenedetto) Aceto. He was a graduate of Proctor High School. Anthony married Carol Zajac on March 14, 1970. They enjoyed a blessed union of 43 years. He was employed as an engineer with the NYS Department of Transportation prior to retiring.

Surviving besides Carol are his son and daughter-in-law, Anthony J. and Rebecca Aceto, Whitesboro; daughter-in-law, Angelina Aceto, Deerfield; two sisters and brothers-in-law, Connie and Edward Szczygiel and Angela and Thomas Mikalajunas; sister-in-law and brother-in-law, Rose Anne and Walter (Sonny) Krzemien; cherished grandchildren, Chiara, Grayson, Piper and Brady Aceto and Stephen's fiancée, Krista Ziesman, Tampa. He also leaves many aunts, uncles, nieces, nephews, cousins and Rob Luckina, who was like a son. Anthony was predeceased by his brother, Sam Aceto and father-in-law and mother-in-law, Joseph A. and Rose (Salatino) Joseph.

In keeping with the family's wishes, please omit floral offerings and Mass cards and consider a remembrance offering to the family. Envelopes will be available at the funeral home.

The Aceto family extends their deep gratitude and appreciation to the Sylvan Beach Fire Dept for their effort, concern and compassion.


"The purpose of ones website may be good for my students. A great deal of wonderful resources are free of charge in right here. At first, Ive introduced your web page to my students in my class, so do not be confused if your web page hits are increase drastically. I talk about a lot of topics, nonetheless debating in every facet that may be debated, and at the finish of my type (every week), I informed them concerning the conclusion of ones theme. Scorching matter and ambiance is often fun right here. And then, you may well be surprised that my students acquired new story every day, and also all of them can express their strategy in house and college. Specifically they told to her/his mom/dad, that they learnt many topics from instructor that learnt from you. Surprisingly that everyone wants to get new challenge with your concept, after which when I give new topic, it might be difficult for all of my students."
Posted by: betonyorganiorg | Monday, December 10, 2012
---
To the Aceto family, with our deepest sympathy and our thoughts and prayers are with you
Posted by: Anthony & Sarah Noti & Family | Thursday, July 12, 2012
---
To the Aceto family, There are no words to say that will bring you comfort at this very difficult and sad time. It is so hard to understand why bad things happen to good people , but we hope that you will find some comfort in knowing you were all a special part of their lives. May God guide you thru these difficult days and give you peace and strength in the days ahead. May angels walk beside their children and watch over them. Ours hearts are sadddened for your loss and we will keep all of you in our thoughts, our prayers and our hearts.
Posted by: Carol and Phil Scampone | Tuesday, July 10, 2012
---
Memories will always remain with us, that''s all we have at this moment. Our hearts are saddened at the devestating loss that you and your family have to indure. May God help you to find comfort in the arms of your Son and Granchildren. With Our Deepest Heartfelt Sympathy, Lorraine & Ray Montanarelli
Posted by: Lorraine Montanarelli | Tuesday, July 10, 2012
---
To the Aceto family, my deepest sympathy, tho ughts and prayers are with you all.
Posted by: Tonischeri | Tuesday, July 10, 2012
---
To the Aceto Family, Our deepest sympathy and prayers to the Aceto Family.
Posted by: Robert Crouse and Debbie Barbero | Tuesday, July 10, 2012
Post a Message of Sympathy
DO NOT SUBMIT information that you do not wish made public on this site. We review all submissions and reserve the right to reject any messages.